Virtual Information Day for Senior Year / Top-up Degree
New
The Faculty of Liberal Arts and Social Sciences (FLASS) will host a Virtual Information Day on 4 December 2021 (Saturday) to introduce our Senior Year / Top-up Degree programmes. AD/HD students and interested parties are welcome. Please visit here for event details.
Programme Description
The programme aims to provide students with a solid training in social sciences inquiry so that they can understand the nature and complexity of social and cultural challenges faced by individuals in communities of different scales and at different levels. Students will be introduced to issues concerning class, ethnicity, gender, social inequality, and cultural diversities. They will also participate in discussions related to social transformations and the changing social structures and institutions in Hong Kong, Mainland China and the contemporary world. Students will be expected to understand and explain social issues with the use of appropriate quantitative and qualitative data. The programme also enhances students' conceptual and problem-solving skills with a view to promoting personal growth and community practices. Upon the completion of the programme, students will be able to apply social scientific knowledge and skills to understand and explore possible responses to a wide range of community issues at global, national, regional and local and individual levels.
| Study Mode | Normal Period of Study | JUPAS Code | EdUHK Programme Code |
| --- | --- | --- | --- |
| Full-time | 2 Years (for Senior Year Admissions) | N/A | A2B101 |

Programme Aims
The objectives of the Bachelor of Social Sciences (Honours) in Sociology and Community Studies programme are:
To equip students with sociological perspectives to understand the transformations and developments of Hong Kong, China and the world;
To enhance students' conceptual and problem-solving skills with a view to promoting personal growth and community sustainability;
To develop students' competency in using appropriate research methodologies in social inquiries
Programme Features
Sociology-based
Analyses the development of Hong Kong and the regional community with the use of appropriate sociological concepts and theories.
Community-driven
Develops practical and sustainable plans for promoting the betterment of communities at local and regional levels.
Experiential Learning
Enables students to apply their knowledge and skills through participating in internship and community projects.
Programme Intended Learning Outcomes (PILOs)
To align with the University's commitment to whole person development and the framework of "PEER & I", the programme aims to prepare graduates to:
Analyse social issues and problems facing communities at different levels with the use of appropriate qualitative and quantitative research methods (PILO1);
Employ major sociological concepts and theories in accounting for contemporary social, cultural, political and economic changes (PILO2);
Develop evidence-based strategies to enhance quality of life and social well-being in the community (PILO3);
Demonstrate ethical awareness and positive orientations towards personal growth and community development (PILO4)

Programme Structure
Domain
Credit Points (cps)
Major
- Major Core
21
- Internship
3
- Major Electives
6
- Major Interdisciplinary Course
3
Final Year Project
- Honours Project I: Research Methods and Proposal / Capstone Project I: Research Methods and Proposal
3
- Honours Project II: Research Report / Capstone Project II: Project Output
3
Electives / Minor
15
Common Core
- University e-Portfolio
3
- General Education (GE)
Experiential Learning / GE Breadth Course
3
Total:
60
Information Technology Competence Requirement
Note: Classes will be held in Tai Po Campus and Tseung Kwan O Study Centre / Kowloon Tong Satellite Study Centre / Sports Centre as decided by the University.

Major Studies
List of Major Courses (All required)
No
Level
Course Title
Major Core Courses (21 cps)
1
3
Discovering Sociology and Community
2
3
Individual and Society
3
3
Globalisation and Social Changes
4
3
Urban Communities and Liveability
5
4
Hong Kong in the Greater Bay Area: Opportunities and Challenges
6
3
Qualitative Research Methods
7
4
Quantitative Research Methods
Major Elective Course (6 cps) (Choose 2 out of 5 electives)
8
3
Values Pluralism and Cultural Diversity in Hong Kong
9
3
NGOs and Social Innovation
10
4
Comparative Social Policy
11
4
Sports and Community Development
12
4
Digital Communities in the Information Age
Internship (3 cps)
13
4
Internship for Community Services
Major Interdisciplinary Course (3 cps)
14
4
The Sustainable Development Goals and Education
Final Year Project (6 cps)
15
4

Honours Project I: Research Methods and Proposal /
Capstone Project I: Research Methods and Proposal

16
4

Honours Project II: Research Report /
Capstone Project II: Project Output
The Programme emphasises the following three areas: (a) conceptual foundation; (b) methodological awareness; and (c) practical value. At the conceptual level, the programme aims to familiarise students with key concepts considered as the building blocks of sociological analyses, including: (1) power, (2) class and inequality, (3) institutions, (4) social structure, (5) culture, (6) gender, (7) identity, (8) intersectionality, (9) globalisation, and (10) risk. At the methodological level, the programme aims to develop students' competency in the following two areas: (1) designing and conducting social survey; and (2) designing and conducting fieldwork. Students are expected to be able to develop plans for administering a research, identify the strengths and weaknesses of research methods through literature review, and interpreting results. At the practical level, the programme aims to provide ample opportunities for students to link their sociological knowledge with different community concerns and opportunities.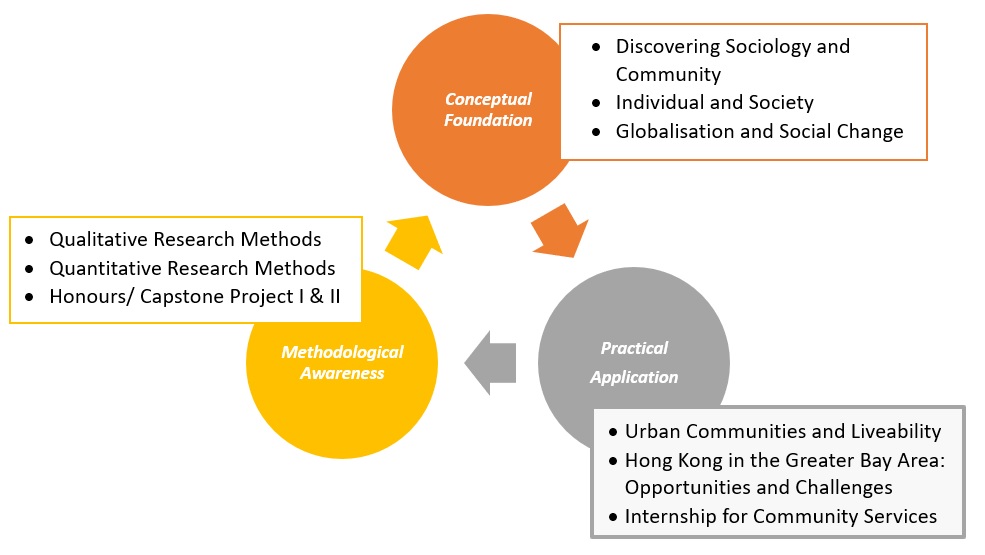 Electives / Minor
Apart from the major courses, the programme includes the Minor(s)/ electives domain and the general education domain. Students are free to choose elective courses offered by any of the University's departments. They have the option of taking a Minor of 15 cps of taught courses in the Elective domain for graduation with a Minor, subject to specific requirements of the Minor(s).
Students of the programme are encouraged to adopt either "Education and Society" Minor or "Sustainable Tourism" Minor. These Minors are developed with a view to strengthening students' awareness towards the practical values of sociological inquiries. On one hand, "Education and Society" offers a holistic treatment of the linkage between education, social development and ethics. This Minor serves as an introduction to sociology of education, a sub-discipline within which sociological connections between education, power, and knowledge are explored. On the other hand, the "Sustainable Tourism" introduces students to the linkage between the environment, community development and the tourist sector. This Minor serves as an introduction to environmental sociology, a sub-discipline within which sociological connections between the environment, society and science are explored.
General Education
GE Experiential Learning Course / GE Breadth Course
The course encourages students to learn through experimentation, observation, reflection and (re-)conceptualisation while undertaking a wide variety of activities.
University ePortfolio
University e-Portfolio requires students to articulate their learning experiences in both formal and non-formal learning by reflecting critically on the value and significance of what they have learned, making connections to their lives, and imagining or charting their own futures.

Medium of Instruction
English.
Career Prospects/Professional Qualifications
This programme will play special attention to the fostering of portable skills and generic competencies that could be applied in a wide range of professional settings. The programme's emphasis on equipping students with a full range of research tools, both qualitative and quantitative, will benefit students' career development significantly. Its focus on a sociological perspective in community contexts will also ensure that much of what students learn here would have practical applications.
Graduates can find employment across a wide range of fields, including: community development workers, non-governmental organisation officers, community liaison officers in government departments and public organizations, international aid/development workers, public relations officers, social and marketing researchers, research assistants in academic institutions, and youth workers.