To formally enrol as a student of EdUHK, you are invited to complete the following online registration procedures. New students are NOT required to undergo registration in person and will receive details through email.
Please read carefully all the information on this website and take appropriate actions as required.
REGISTRATION PROCEDURES
Faculty-based Orientation Reception
To help facilitate a smooth transition to our University, we would like to invite you to attend the Faculty-based Orientation Reception in person. The Orientation is compulsory for all new senior year entry students. Details are given in the Invitation Letter from the respective Faculties. If you are not sure which Faculty your enrolled programme belongs to, you may check it out here.
ORIENTATION AT EdUHK
A series of orientation activities have been prepared to help you navigate through the dynamic student life at the University and meet fellow students and teachers. Please browse Orientation website to learn more about the details.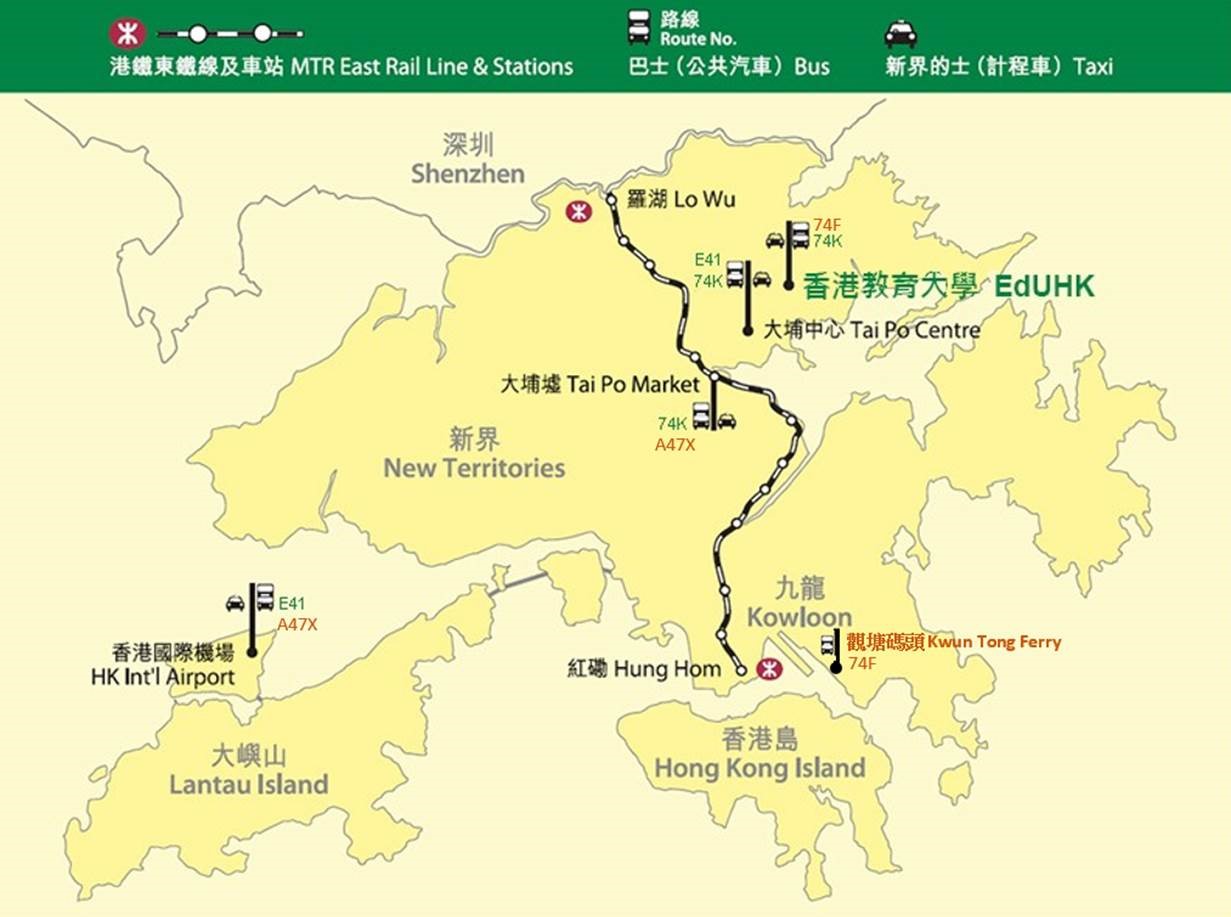 | | | |
| --- | --- | --- |
| | | |
| KMB Route 74F: Between EdUHK Tai Po Campus and Kwun Tong Ferry | | Taxi |
| KMB Route 74K: Between MTR Tai Po Market Station Bus Terminus and Sam Mun Tsai, stopping at EdUHK Tai Po Campus | Between EdUHK Tai Po Campus and Bayshore Towers | Approximate fare is HK$55 from MTR Tai Po Market Station or MTR Tai Wo Station to EdUHK Tai Po Campus |
University Shuttle Bus Service
Between MTR University Station and EdUHK Tai Po Campus
Boarding Point:
MTR University Station (to EdUHK Tai Po Campus) Shuttle bus pick-up/drop-off area (between bus terminus and taxi stand),Chak Cheung Street, Ma Liu Shui (MTR University Station Exit B)
Service Time:
Monday to Friday
7:50am to 10:15pm (July to August 2023)
7:40am to 11:00pm (September 2023 to June 2024)

Saturday
8:00am to 7:20pm (Mid-August 2023 to June 2024)
No Service in July to Mid-August 2023
Frequency:
Every 5-15 minutes
Fare for Student:
HK$7.0 per trip by Octopus (new fare from 1 Aug 2023, pay after alighting at Block A Entrance Plaza)
Note:

For the first-time access to the campus, students are required to show their printed offer/email upon boarding. For subsequent access to the campus, students will be requested to tap their Student EdU Cards for identity verification upon boarding. For details, please visit the Estate Office Website.
University Shuttle Bus Service is for students and staff only.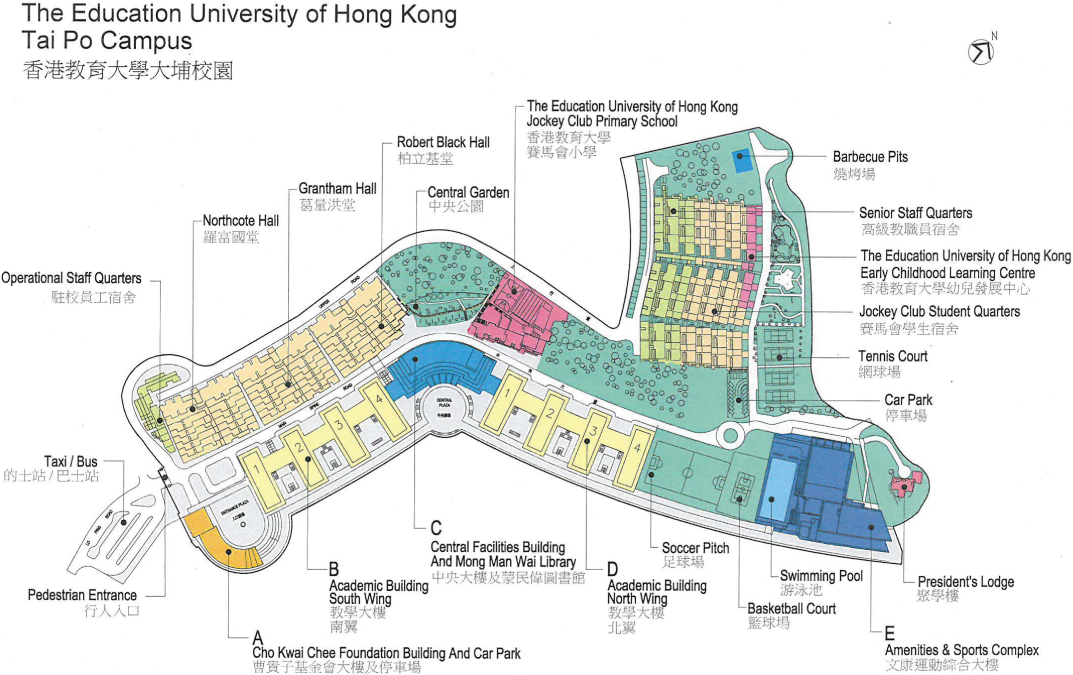 Please click here to enlarge the map
When Typhoon Signal No.8 or above, or Black Rainstorm Warning is in force at or after 6:00am, the bad weather arrangement will be adopted. Please click here for details.
The Registry
Admissions, Registrations and Academic Planning Section
2948 6886

admission@eduhk.hk
Information Centre
2948 6177

siec@eduhk.hk

Room A-G/F-11, Cho Kwai Chee Foundation Building
Faculties
Faculty of Education and Human Development (FEHD)
2948 8576

fehd@eduhk.hk


www.eduhk.hk/fehd/

Room D1-G/F-02, Block D1
Faculty of Humanities (FHM)
2948 7237

fhm@eduhk.hk


www.eduhk.hk/fhm/contact-us

Room B2-G/F-04, Block B2
Faculty of Liberal Arts and Social Sciences (FLASS)
2948 7151

flass@eduhk.hk


www.eduhk.hk/flass/

Room B2-G/F-04, Block B2
Others
Centre for Language in Education (Language Test Enquiries)
EdUHK English Proficiency Test (EEPT)

2948 7896

ypwye@eduhk.hk


EEPT
Tertiary Putonghua Test (TPT)

2948 8043

ckwing@eduhk.hk


TPT
Room B2-G/F-03, Block B2


www.eduhk.hk/cle/
General Education Office
2948 8799

ge@eduhk.hk


www.eduhk.hk/geo

Room B2-G/F-02A, Block B2
OCIO IT Help Desk
2948 6601

helpdesk@ocio.eduhk.hk


www.eduhk.hk/ocio/contact-us-ocio

Room C-LP-20, Block C
Student Affairs Office - General Enquiries
2948 6720

saoemail@eduhk.hk


www.eduhk.hk/sao/

Room B4-G/F-01, Block B4
Student Affairs Office - Hall Admission Enquiries
2948 6868

shostel@eduhk.hk (for hall admission)


www.eduhk.hk/sao/info/student_halls/hall_admission/

Room B4-G/F-01, Block B4
Finance Office
2948 6109 / 2948 7440 (Student Tuition Fee)

fo@eduhk.hk


www.eduhk.hk/fo/
Transportation Enquiries
2948 6714

webmaster.eo@eduhk.hk


www.eduhk.hk/eo/transportation/types-transport