Programme Description
The BA(ESDC) programme aims to cultivate a new generation of English studies students with strong digital literacy skills through a digitally enriched curriculum. The programme provides a wide range of courses to build a solid foundation in English language, linguistics and digital literacy, consolidated by hands-on experience in using digital tools for language applications. Students will be empowered to develop digital contents for the learning and teaching of languages, to publish in digital media and to support and critically evaluate digital communication solutions. A combination of humanities and digital communication technology will allow students to further contribute to the transformation of education, media, and publishing in the digital age.
| Study Mode | Normal Period of Study | JUPAS Code | EdUHK Programme Code |
| --- | --- | --- | --- |
| Full-time | 2 Years (for Senior Year Admissions) | N/A | A4B093 |

Learn More About Our Programme
Our Admission Talk Video
Programme Aims
Upon successful completion of the programme, students should be able to:
Demonstrate a high level of proficiency in English;
Use up-to-date linguistic methodologies to analyse the use of English language across domains;
Develop digital contents for applications in multilingual and multicultural settings;
Utilise state-of-the art digital tools for digital communications;
Develop and apply critical thinking and problem-solving skills to contribute to the technological advancement of education, media, and publishing; and
Exercise an enhanced awareness of the ethical dimensions implicit in the digital age.
What Our Students Say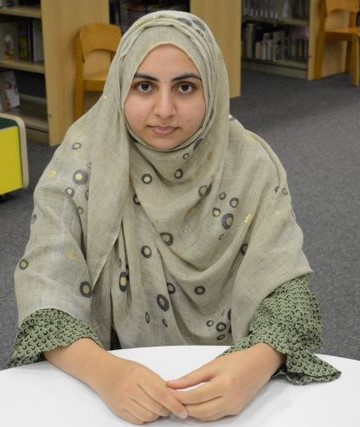 In my early days of university life, I found some courses challenging. In spite of this, I took the initiative to seek help from course lecturers. With their kind assistance and through the learning of useful applications during classes, I have made a great leap in mastering various technological skills.
Faiza
Class of 2022
Bachelor of Arts (Honours) in English Studies and Digital Communication
Programme Structure (for Senior Year Entrants)
Domain
Credit Points (cps)
Major

Core (24 cps)
Major Interdisciplinary Course (3 cps)
Internship (3 cps)

30
Final Year Project

Research Methods (3 cps)
Honours Project / Capstone Project (3 cps)

6
Electives
15
University ePortfolio
3
General Education / Language Enhancement / Experiential Learning
6
Total:
60
Note:
(1) Classes will be held in Tai Po Campus and Tseung Kwan O Study Centre / North Point Study Centre / Kowloon Tong Satellite Study Centre / Sports Centre as decided by the University.
(2) Any aspect of the courses (including, without limitation, the content of the Course and the manner in which the Course is taught) may be subject to change at any time at the sole discretion of the University. Without limiting the right of the University to amend the course, it is envisaged that changes may be required due to factors such as staffing, enrolment levels, logistical arrangements and curriculum changes.

Major
Students are required to complete the Major core courses (24 cps) that cover the basics of English Studies and essential level of digital literacy. Apart from the Major Core, students are expected to take a 3-cp Major Interdisciplinary Course.
Course Title
1
Introduction to Linguistics
2
Introduction to English Phonetics and Phonology
3
Words and Their Meanings
4
English Grammar
5
English as a Global Language
6
English for Cross-Cultural Communication in the Greater Bay Area and beyond
7
Introduction to Programming for Language Studies
8
Language Information Management
Internship
Students are required to participate in a compulsory internship (3 cps) in their summer after Year 3. The Internship aims to enable students to integrate and apply in real-life settings the knowledge and skills gained in their studies. The Internship also prepares students to handle challenges they may encounter in real work situations, and provides opportunities for them to consider their future career directions.

Final Year Project
The Final Year Project comprises of two 3-credit point courses:
Honours Project I/Capstone Project I: Introduction of research methods and proposal in Year 3 Semester 2.
Honours Project II/Capstone Project II: A one-year project to be conducted in the final year. Students will complete an individual project under the supervision of an academic staff.
a. Honours Project I/Capstone Project I: Research Methods and Proposal (3 cps)
The course "Honours Project I/Capstone Project I" consists of two parts:
Part A "Generic Research Methods" (1.5 cps) introduces basic research knowledge and principles of research methods for students to use and/or conduct research in English studies and related disciplines, and ethical issues in the research process.
Part B "Methods for Specific Area in Preparation of Honours Project/Capstone Project" (1.5 cps) prepares students to develop a proposal for conducting a research-based/project-based study in their chosen areas.
b. Honours Project II: Research Report/Capstone Project II: Project Output (3 cps)
Honours Project

The course "Honours Project II" is a continuation of the course Honours Project I. It provides opportunities for students to conduct research independently under the guidance of their supervisors.

Capstone Project

The course "Capstone Project II" is a continuation of the course Capstone Project I. It provides opportunities for students to complete an individual project under the guidance of their supervisors.
Electives
Students can choose to take major-related courses to strengthen their subject knowledge, or the courses available in the University's Elective Course List, General Education or courses articulated with postgraduate programme to suit their career aspirations and interests. Students may also use the cps under this domain (15 cps) to study towards Minors or Second Majors offered by FHM and other Faculties. Students may be required to take extra cps to fulfill the requirement of obtaining a Second Major or two Minors.
List of Major-related courses (optional)
Course Title
1
Introduction to Sociolinguistics
2
Spoken and Written Discourse
3
Integrating Information Technology in the ESL/EFL Classroom
4
Computer-assisted Translation
5
Speech Technology for Language Learning and Teaching

University ePortfolio
It is a 3-cp 'capstone' course which requires students approaching the end of their undergraduate studies to reflect critically on the knowledge and skills acquired in their studies – within General Education, in their disciplinary and professional courses, international exchanges, internships and in their lives beyond the classroom – and to develop an integrated view of how and where they position themselves in relation to their future goals, plans, and aspirations. BA(ESDC) students will have to take the course in their Year 4 Semester I.
GE Breadth Courses / Experiential Learning / Language Enhancement
Students are required to take a total of 6 cps in the domains of General Education, Experiential Learning or Language Enhancement.
General Education Breadth Course domain: It consists of General Education Breadth Learning Strands (1-3) (GELS) (Level 1-2), Positive and Values Education (PAVE) Course and General Education Interdisciplinary Course (GEIC) (Level 4), which aim to equip students better for the study of the ontological, epistemological and/or methodological issues in a wide variety of disciplines. There is no pre-requisite for GE courses for Senior Year students.
Experiential Learning domain: It consists of Co-curricular and Service Learning Course (CSLC) and Experiential Learning Course (ELC), which aims to provide students with an opportunity to engage in learning in action and encourages students to learn through experimentation, observation, reflection and (re-)conceptualisation.
Language Enhancement: The University is committed to nurturing graduates who will acquire trilingual proficiency in English, Putonghua and Chinese. Interested students may take Chinese Enhancement Courses or Putonghua Enhancement Courses offered by the Centre for Language in Education (CLE).
Language Exit Requirement
Students admitted to the BA(ESDC) programme with a normal study period of two years will be exempted from the Language Enhancement Courses and Language Exit requirements.

Information Technology Competency Requirements in Education (ITCE)
To demonstrate the attainment of ITCE, students are required to pass all the required courses in the Programme and to complete the IT e-Portfolio Checking before graduation.
Career Prospects/Professional Qualifications
The BA(ESDC) programme provides excellent background for job opportunities in education, media, journalism, publishing, and communication. These fields have become highly data-intensive and require talents who can acquire and utilise information from the international English-speaking world at an unprecedented speed. The analytical training provided by English linguistics courses plays an essential role in all aspects of integration of the use of English in the digital world.
Graduates will be able to transfer their multidisciplinary knowledge and their digital and intercultural awareness to participate in future development of digital learning. They will also be well-prepared to work for international technological enterprises or any other business with technology-driven innovation in which good English communication skills, a high level of digital flexibility and English proficiency are required.