Programme Information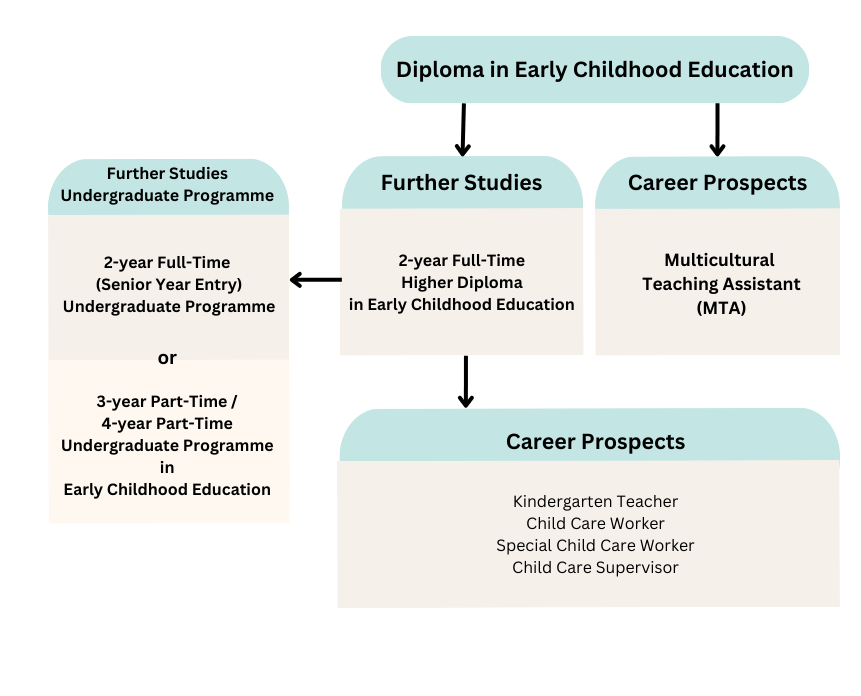 Programme Code: A1E001
Programme Aims
This diploma programme is an active response to the education provision for ethnic minorities in Hong Kong. It aims to nurture a new generation of teaching assistants who possess the language proficiency, pedagogical knowledge and positive attitudes required to support preschool teachers, education and community service workers in helping non-Chinese speaking (NCS) children build a solid base for learning, and to contribute proactively and meaningfully to social inclusion and early childhood education.
Programme Structure
This is a one-year full-time programme comprised of 36 credit points. The programme curriculum is built on a theory-practice integrated framework, and comprises ten taught courses and a Practicum.
Understanding Child Development from an Ecological Perspective
Supporting Social and Emotional Development of Non-Chinese Speaking Children in Home and Schools
Supporting Language Development of Non-Chinese Speaking Children
Building Culturally Responsive Classrooms in Local Context
Embracing Play-based Learning and Teaching
Applying Technology into Learning and Teaching Resources
Promoting Equity and Social Inclusion in Home-School-Community Collaboration
幼兒教育專用中文(一)Chinese for Specific Purpose I
幼兒教育專用中文(二)Chinese for Specific Purpose II
English Communication Skills in ECE
Practicum
Practicum
The Practicum course offers opportunities for participants to put what they learn into practice and hone their skills in supporting the NCS students in learning. The course spans two semesters, and includes school attachment and block practice. It is expected that through taking up responsibilities in the real work settings, participants will have a better understanding of their future roles in classrooms, and how to interact and cooperate with children, teachers and parents.
Important Note:
Prior to undertaking the Practicum, the University will request participants of the programme to declare whether they have been convicted of or are being prosecuted for any sex-related offence in Hong Kong or elsewhere, and to provide relevant details. Such information may be released to their placement schools/organizations. The University reserves the right not to allow any participant of the programme to undertake the Practicum. If so, these participants will not be able to meet the graduation requirements of the programme.
Medium of Instruction
Based on the course nature and teaching content, six courses will be taught in English and five courses will be taught in Chinese (Cantonese).
Mode of Study
One-year Full-time
Career Prospects
Graduates of this programme are empowered with the knowledge, skills and values in culturally responsive practices. They can work as teaching assistants in kindergartens and non-formal education agencies, to facilitate and support the achievements of NCS children.

Graduates may continue their professional development by enrolling in a higher diploma programme that may carry them up the ladder towards becoming a qualified teacher in the field of early childhood education, particularly in support of NCS children.
General Entrance Requirements
Applicants are eligible to apply through the Direct Application route if they:
have obtained in the HKDSE (a) Level 1 or above in Chinese Language(Note 1) and English Language; and (b) 6 points or above in the best five subjects (Notes 2 & 3); or
possess other equivalent qualifications; or
are mature applicants (aged 21 or above by 1 September 2024) who can demonstrate academic ability and commitment to study in the programme.
Applicants are also required to have achieved satisfactory performance in both Language tests and an interview. Having knowledge of one or more ethnic minority languages (e.g. Hindi, Urdu, Nepali) will be an advantage.
Note:
1. For NCS students who have met the specified circumstances as announced by the Education Bureau (EDB), the University accepts alternative qualifications in Chinese Language (only those under GCE, GCSE, and IGCSE) for the purpose of meeting the minimum entrance requirements. From the 2017/18 onwards, the HKDSE Applied Learning Chinese will also be accepted as an alternative Chinese Language qualification with "Attained" as the minimum requirement.
2. If an applicant has attempted less than 5 subjects but can obtain 6 points or above, his/her application will also be considered. Calculation of points: Level 5** = 7 points; Level 5* = 6 points; Level 5 = 5 points; Level 4 = 4 points; Level 3 = 3 points; Level 2 = 2 points; Level 1 = 1 point.
3. Applicants are allowed to use up to two Applied Learning (ApL) subjects (Applied Learning Chinese is not applicable) in the application. The recognition of the ApL subjects is as follows: "Attained with distinction" is deemed equivalent to Level 3 in the HKDSE Examinations; and "Attained" is deemed equivalent to Level 2 in the HKDSE Examinations.
Admission Enquiries
(852) 2948 6886
Programme Enquiries
(852) 2948 8275
Programme Leader (One-year Full-time)
Mr. LAI Nok-hang, Edward
(852) 2948 7764
Application and Admission
Application Deadline and Late Applications
The main round application deadline is 30 April 2024. Applicants, therefore, are advised to apply as early as possible.
Submission of Application
Applicants must submit their applications online via www.eduhk.hk/acadprog/online. The University does not accept paper applications. Application fee for local applicants and non-local applicants* is HK$150 and HK$300 respectively which is non-refundable and non-transferable unless the programme has been cancelled by the University. Applicants are advised to visit the admission website for details before submitting their applications. Upon successful submission of application, applicant will receive an application acknowledgement by email.
* Please refer to www.eduhk.hk/acadprog/nonlocal for the definition of local/non-loacl students.
Documents to be Submitted with your Application
You should upload your transcript, certificate and other supporting documents direct on www.eduhk.hk/acadprog/online. If you are a current final year student of a post-secondary programme, please upload a copy of your current year results when it is available. If you are our graduate in 1995 or after, you do not need to submit any copies of academic transcript(s) and certificate(s) obtained at the EdUHK/HKIEd, but you will need to authorise us to extract and use your records of studies to process your application.
Interviews and Admission Results
Applicants may be required to attend admission interviews / tests. However, not all applicants of these programmes will be interviewed. An applicant who has not been invited to an interview / test shall not assume that he / she is not being considered for admission.
Applicants will be informed of their application status, such as application acknowledgement, interview arrangements, admission offer etc., via their personal email. Applicants are advised to check their email and online application account regularly for interview schedules and admission status.
The selection process is normally completed by the end of August. Successful applicants will receive individual notifications by email. Applicants who are not offered admission by that date may assume their applications unsuccessful. No individual notifications will be sent to unsuccessful applicants and waitlisted applicants.
Tuition Fees
Students of this Diploma programme are not required to pay tuition fee.
Caution Money
All students are required to pay HK$350 as caution money in the first semester. If there are no claims against the caution money, it will be converted to the graduation fee upon completion of the programme. The caution money is refundable on withdrawal from the University if no claims are outstanding.
Cancellation of Programme
The University reserves the right to cancel the programme in which case all fees paid will be refunded.
Right of Access to and Correction of Information
In accordance with the Personal Data (Privacy) Ordinance, you have the right of access to and correction of the information contained in your application form and the right to request a copy of such data. If you wish to do so, you may submit your request in writing to the Admissions, Registrations and Academic Planning Section of the Registry.
Probity Requirements
Other than the application fee, applicants are not required to pay any additional fees during the application process. In addition, please be reminded not to offer any advantage to EdUHK staff and/or any person involving admissions at EdUHK in connection with your application. Otherwise, your action may violate Hong Kong's Prevention of Bribery Ordinance (Cap. 201).
Disclaimer
Every effort has been made to ensure that information contained in this website is correct. Changes to any aspects of the programmes may be made from time to time due to unforeseeable circumstances beyond our control and the University reserves the right to make amendments to any information contained in this website without prior notice. The University accepts no liability for any loss or damage arising from any use or misuse of or reliance on any information contained in this website.
Any aspect of the course and course offerings (including, without limitation, the content of the course and the manner in which the course is taught) may be subject to change at any time at the sole discretion of the University. Without limiting the right of the University to amend the course and its course offerings, it is envisaged that changes may be required due to factors such as staffing, enrolment levels, logistical arrangements, curriculum changes, and other factors caused by unforeseeable circumstances. Tuition fees, once paid, are non-refundable.